Sourabhh Mukherjee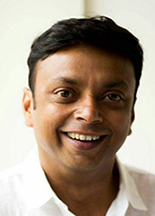 AnotherU

Sourabh Mukherjee has two decades of leadership experience in the Indian Army. He is an alumnus of National Defence Academy (NDA), Khadakwasla and Indian Military Academy (IMA), Dehradun. A post graduate from Pune University, he has adequate professional exposure to leadership roles and core training.
His passion for psycho therapy has spurred him onto learn Neuro Linguistic Programming (NLP) and Past Life Regression. Today he is a certified Past Life Regression Therapist (Dr Trupti Jayin) and a Certified NLP Trainer and NLP Master Practitioner in NLP(NFNLP,US).
With over two decades of experience in leadership and training, he is a faciliator and coach who reaches out and conducts modular workshops through Another U - a concept company for healing, mentoring and coaching. He has conducted workshops at Pune, Kolkata, Guwahati and shillong. His core areas of impact are educational institutions (teachers and students), sports persons and corporate professionals.
His journey along the NLP path commenced with a short informative workshop on NLP and Transaction Analysis. As he continued to practise facilitation with more and more clients, he realised that there was more to the science than it being simply a corporate training tool for behaviour and soft skills. It was a science which could be applied to transform the way in which people looked at reality.
This in turn implied that NLP could actually be used for healing and self-empowerment. After completing his basic practitioners course, he put the tools to good use- using innovations and Skype for facilitation -touching lives with pure intent of making people's lives better. Be it stress, confidence, focus, rapport building, negating fears and apprehensions, physical challenges or depression, he has taken his subjects' challenges as opportunities to spread the word about the power of NLP techniques.
He has facilitated at Symbiosis ELTIS to train their trainers in coping mechanisms while dealing with foreign students and at KION for a take on the psychology of persuasion. He also trained models for confidence and stage presence for Mr and Miss Glam Snap, a pre -cursor to the ELITE Miss India 2016 edition.
As a Master Practitioner, his focus continues to be on facilitating transformation in all people he interacts with.
He uses both techniques as a facilitator to heal and enrich lives as he touches them.
Other than healing and facilitating workshops, he is fond of writing. His first book in children's fiction, 'Micky and the Magic App' is available on Amazon!

Upcoming NFNLP 2017 Training Schedule
with Sourabhh Mukherjee
Location

Date

Class Description

Information

Pune, India

July 10-14, 2017
NLP Basic Practitioner Certification
Register:
Phone:+919436784729 / +918888824409
Emails: ask@anotheru.in
irmi248@gmail.com
---