Ramsy Ayachi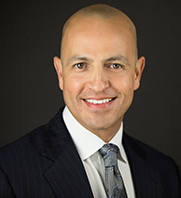 NoVA Hypnosis and Wellness Center
1485 Chain Bridge Road, Suite 204
McLean, VA 22101
Telephone: (571) 295-7371
Email: ramzy@novahypnosisandwellness.com
Website: www.novahypnosisandwellness.com
---
Ramzy Ayachi, BCH, CI
Board Certified Hypnotist
Master Neuro-Linguistic Programming (NLP) Practitioner
Certified Trainer for Hypnosis and NLP
Certified Health Coach
Board Certified Hypnotist and Performance Coach
Director of Training at Nova Hypnosis and Wellness
Ramzy is a 20-year Marine Combat Veteran and former CH-53 pilot. He leverages his decades' long military training and experience to help others achieve their personal best, both mentally and physically, through a combination of hypnosis and performance coaching.
A graduate of the U.S. Naval Academy with a B.S. in Ocean Engineering, Ramzy was commissioned as a 2nd Lieutenant and U.S. Marine Officer immediately upon graduation from the academy. He also completed Naval Aviation Training, earning his Naval Aviation Wings and was assigned to fly the US Marine Corps, CH-53E Assault Support Helicopter. Here he observed various teaching, mentorship, and leadership styles (some good…some not so good) which he has used to craft his own unique and highly effective style of leadership and coaching which allowed him to take his persuasion mastery skills to new levels. For example, through sheer will, determination and persuasion he personally built and sourced an entirely unfunded program, pulling in resources from across the Department of Defense (DoD) to provide cost-free aviation assets for a formal military training course for three straight years.
Utilizing his distinctive positive coaching methods, Ramzy has had a proven impact teaching and evaluating complicated skill sets, such as teaching airstrike coordination , dynamic flight instruction, and leading, inspiring, and mentoring Marines, in peacetime and combat. Ramzy has consistently illustrated that he understands and values the human capital element and has an on-going desire to share knowledge, information, and skills with others. He feels strongly that it is an inherent responsibility to leave behind a better more capable environment, team, or individual and that passion is evident in his pursuits. He has observed that all humans have very common needs. Which needs do you have? Understanding these needs will improve the communication to self and others.
"So many have asked how I got involved in hypnosis. The question always make me smile. I love this stuff. I jumped feet first into this new direction for several reasons, one to lose weight ( I was busting out of my uniforms and the Marines don't take kindly to being fat… and the other reason was to kick the mental prison of making decisions based on fear…will I have enough?… I'll start enjoying my life when I retire… I'll take this safer more predictable route… and other narratives which had been imprinted in my behavior for various reasons. After multiple combat deployments, I realized how short life was and desired the courage to spend the next phase of my life doing exactly what I wanted instead of being guided by financial or emotional fears, a feeling he witnessed as quite commonplace. Again, hypnosis unleashed that courage." – R.A.

Upcoming Trainings with Ramzy Ayachi
Location

Date

Class Description

Information

McLean, VA
NoVA Hypnosis and Wellness

April 22-23 & 29-30, 2017
4 Days - Minimum 40 total hours (Classroom & Homework)
8:00 am - 6:00 pm

NLP Basic Practitioner Certification Training

Register: (571) 295-7371
Email: ramzy@novahypnosisandwellness.com
Website: www.novahypnosisandwellness.com

McLean, VA
NoVA Hypnosis and Wellness

July 15-16 & 22-23, 2017
4 Days - Minimum 40 total hours (Classroom & Homework)
8:00 am - 6:00 pm

Super Early Bird Pricing: by May 15th - $995
Early Bird Pricing: by June 15th - $1,295

NLP Basic Practitioner Certification Training

Register: (571) 295-7371
Email: ramzy@novahypnosisandwellness.com
Website: www.novahypnosisandwellness.com

McLean, VA
NoVA Hypnosis and Wellness

October 14-15 & 28-29, 2017
4 Days - Minimum 40 total hours (Classroom & Homework)
8:00 am - 6:00 pm

Super Early Bird Pricing: by August 14th - $995
Early Bird Pricing: by September 14th - $1,295

NLP Basic Practitioner Certification Training

Register: (571) 295-7371
Email: ramzy@novahypnosisandwellness.com
Website: www.novahypnosisandwellness.com
&nbsp