Fadzli Yusof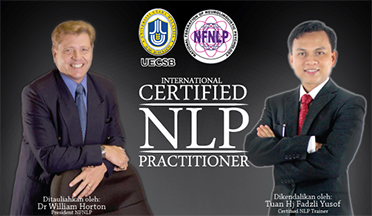 NLP Trainer and Master Practitioner
Contact:
Tel: 603 4107410
Fax: 03 4107 4102
Emails: fadzliyusof@globalgenius.com.my
admin@globalgenius.com.my
Websites: www.fadzliyusof.com
www.nlpmalaysia.net
---
Fadzli Hj Yusof is a Master Trainer at Global Genius Consultant Sdn Bhd (For corporate and professional training) and RK Training & Management (Training For Students, Youth and Youth).
Fadzli Yusof's Professional qualifications:
Certified NLP Trainer Professional National Federation of NLP (NFNLP) Florida.
NLP Coach and NLP Master Practitioner (NFNLP)
certifed NLP Practitioner (International Society of Neuro Semantic)
Certified Practitioner of Hypnotherapy and Time Lines (SNS)
Certified Practitioner of Neuro Semantic (SNS)
Professional Certified Trainer Human Resources Corporation Berhad (PSMB)
Alumni ESQ 165 (Leadership-MCB)
Alumni Law of Attraction (LoA) by Michael J. Losier
Have experience as an advocate and solicitor of the High Court of Malaya and a law lecturer UiTM.
Professional organizations:
Deputy President Tamra (Organisation of the Training and Motivational Consultant Muslim Malaysia) 2011-2013.
Professionals MIM (Malaysian Institute of Management).
Registered Member NFNLP (National Federation of NLP).
Professional Member of MAPS (Malaysian Association of Professional Speakers).
Academic qualifications:
Getting a degree from the International Islamic University and then continued at postgraduate level (master) at the same university. Now, he continued his studies in progress to PhD level.
Writing Motivation: It produces 35 books related to human development and motivation of themselves. Some topics became a bestseller on the market (Chart book in MPH Bookstores, Popular Bookstores, and review RTM). Already more than 100,000 copies of his book have been sold in the market.
Professional experience:
During participation in training, he has conducted many sessions involving participants from various backgrounds, either from the government, and private sectors. Among them are such as Petronas Methanol Sdn Bhd, a Petronas Refinery Sdn Bhd, Tenaga Nasional Berhad, Prudential Insurance (Malaysia), Avail Beauty Sdn Bhd, MCIS Zurich International, Hong Leong Takaful, Affin Bank, Bluewave Hotel, Hotel Santubong, Telekom Malaysia Berhad, fmBrunei Group, PNB, FELCRA, RISDA Plantation, RISDA aspect, TAN, Proton, Odyssey, Cause Commerce, Perodua, MAIS, Ministry of Education, Ministry of Home Affairs of Brunei, UKM, UPM, UTHM, IIUM, UMP, and much more. He is also the Deputy President of the Association of Muslim Motivation and Training Consultant Malaysia (Tamra) and former Secretary General of Tamra the first (2009-2011).
Fadzli has organized NLP-based programs for Malaysian conducted in Bahasa Malaysia. He has written more than 30 motivational books and books on the subject of NLP. He began studying NLP in 2008 and reached Trainer level in 2011. Fadzli offers various NLP training, especially in management, team, business motivation, communication, selling, coaching, and customer service. His most popular program is known as CHAMPION, a personal peak performance program that helped thousand participants.
---
Upcoming Training Schedule
&nbsp