Vincenzo Fanelli, NLP Master Trainer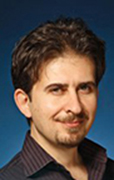 Milan, Italy
Corsi Istituzionali di PNL

Via Boccaccio 4
Milan, Italy 20123
Voice: 3902-4814006 Mobile: 39392-2715562 Fax: 39024814569
Email: info@vincenzofanelli.com
Website: www.vincenzofanelli.com
---
Vincenzo Fanelli, NLP Master Trainer, reached a significant experience in the business training as trainer and as management consultant (Sales and Negotiation; Management, Leadership, Team Building and Personnel Selection) with important companies throughout Italy.
He matured thousands of hours in heterogeneous training during several courses of NLP, Body Language and Enneagram workshops in the main Italian cities.
Fanelli published five books (in italian language).
In 2001 Fanelli published the successful book titled "The Power of Universal Energy" (Edizioni Macro) in which he deals with the novel connection among Spirituality, Mysticism, NLP and the new theories in Quantum Physics. He examined closer this connection in 2003 with his new work (book + video) "The Genie of the Lamp is Inside You" (Macro Edizioni).
In 2003 he published an handbook on Effective Communication and Empathy: "The Secret Powers of Effective Communication" (Editrice Proto).

In 2005 he published a handbook + CD audio about good goal training: "The Power to become happy" (Edizioni Anima).
One of his works deals with the connection between the Eneagram and NLP: in 2006 he published "Improves your relations with Enneagram and NLP" (Essere Felici).
---
Upcoming Trainings with Vincenzo Fanelli, Master Trainer
Location

Date

Class Description

Information

Milan
Italy

Call for Information
Minimum 40 total hours (Classroom & Homework)

Certified NLP Basic Practitioner Course



Voice: 3902-4814006 Mobile: 39392-2715562 Fax: 39024814569
Email: info@vincenzofanelli.com
Website: www.vincenzofanelli.com

Milan
Italy

Call for Information
Minimum 40 total hours (Classroom & Homework)

Certified NLP Master Practitioner Course



Voice: 3902-4814006 Mobile: 39392-2715562 Fax: 39024814569
Email: info@vincenzofanelli.com
Website: www.vincenzofanelli.com
&nbsp