Dr. Sumathi Narayanan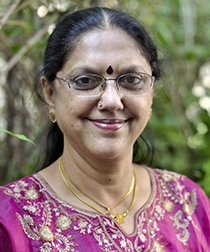 Certified NLP Trainer and Master Practitioner
Creative Communication & Management Center
No.120/112, Vepery High Road, Chennai Tamilnadu, 600 003
Telephone: +91 44 2538 1323 Mobile: +91 98410 14626
Website: ccmcinfo.com/ccmc/profile/ Email: ccmcmadras@gmail.com
---
About Dr. Sumathi Narayanan:
Dr.Sumathi Narayanan, the President of Creative Communication and Management Center, Chennai- a Center for Personal and Professional Excellence has been in the field of training and development for over three decades.
She is a:

Ph. D in HUMAN DEVELOPMENT, Department of Psychology, University of Madras.
B Ed – Annamalai University
Certified NLP Practitioner & Trainer under NF NLP – USA
Silva Mind Control – Graduate
Undergone advanced training in the application of Transactional Analysis in organizations with ITAA – International Transactional Analysis Association.
An ardent learner, she is a powerful speaker, trainer and leader. She enjoys conducting her workshops and her strength lies in innovating and customizing programs to suit organization's culture and needs. Her workshops are highly interactive. She has the flexibility to build rapport with all levels of participants, draw them out and motivate them to realize their potential. Her mission in life is to share Life Skills to the lesser privileged students or institutes serving them. She strongly believes in helping people develop and realize their potential.
---
Upcoming Training Schedule
&
with K. Aravamootham, Gold Master Trainer & Dr. Sumathi Narayanan, Trainer
Location

Date

Class Description

Information

Chennai
India

March 10-11 & 17-18, 2018
(Saturdays & Sundays)
Minimum 40 total hours (Classroom & Homework)



NLP Master Practitioner Certification Training




REGISER NOW! Contact K.Aravamootham
Email: K. Aravamootham
Phone: +91 984010 3542
or
Contact Dr. Sumathi Narayanan
Email: Dr. Sumathi Narayanan
Phone: +91 984010 14626
&nbsp