Rita Baki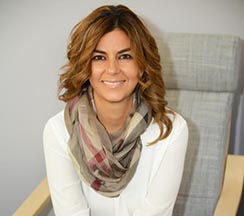 Change Associates
Knowledge Village
P.O. Box 500700, Dubai, United Arab Emirates
Telephone: +971 4 390 2217
Email: info@changeassociates.ae
Website: www.changeassociates.ae
---
Master Trainer: Rita Baki
Managing partner at The Change Associates
Master Trainer of NLP and hypnosis (NFNLP & NGH)
NLP coach
Certified hypnotist
Certified EFT Instructor
Meditation and Breath Work Facilitator
Reiki Master
Rita has been in the educational field for the past 18 years as a teacher, a HOD, and a college registrar with a Master's Degree in Quality Management, a Bachelor's Degree in Business Management, and a Post Graduate Teaching Diploma in Language Arts.
The power of the subconscious mind never ceases to amaze Rita; teaching people how to connect with their subconscious and watching them realize that they have the capacity to change their lives is beyond wonderful. Weight can be lost, destructive habits can be broken, addictions ended, diseases cured, and heartaches healed; you can find it within yourself to do absolutely anything you want to do.
Emotional intelligence has played a key role in Rita's life for as long as she can remember, and there is nothing she loves more than teaching people how to get rid of whatever holds them back from living the life they dream of.
Rita practices in Abu Dhabi and Dubai, and can be contacted at 0504188020.
---
Upcoming Trainings with Rita Baki, Master Trainer

CALL NOW!

0971 4 3902217
&nbsp