Naresh Kumar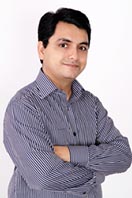 Author, Trainer, Hypnotherapist & Coach

About Naresh Kumar:
To Inspire and Empower people to live their Highest Vision in the context of Love, Harmony and Joy.
My passion: NLP, Hypnosis, New Thought Movement, Motivational Literature.
Certified NLP Trainer by NFNLP, USA.
NLPer, Authour, Trainer, Hypnotherapist, Mind Coach.
Author of Hypnotic Influence Masterclass (Audio Product).
Practiticing Hypnotherapy since 2016.
Professional Coach (Life/Wellness/Career/Business) since 2014.
Dr. Richard Bandler Licensed NLP Coach (SNLP).
Certified Wellness Coach (ICF Accreditation).
Jack Canfield Certified Success Principles Trainer.
Conducting NLP trainings since 2015.
Conducting Conversational Hypnosis trainings since 2016.
Conducting Life/Wellness Coach Trainings since 2015.
conducting NLP Coach Trainings since 2015.
Conducting Wellness Workshops since 2015.
Conducting Success Workshops since 2016.
14 kyears of corporate experience in IT field.
.
More About Naresh Kumar:
His journey into this field started in 1999, when he purchased his first self development book. He got hooked to the motivational literature.
One thing lead to another and as he dived deeper into the field, he came across many names like Napoleon Hill, William Clement Stone, Claude M. Bristol etc.
He became a student of mind. He attended several workshops and courses pertaining to Coaching, NLP, Hypnosis and Hypnotherapy.
In 2014 he came across The Success Principles book by Jack Canfield. From day one he wanted to teach these principles to people. And finally in 2016, he enrolled into Train The Trainer program and successfully completed it. He got certified as Jack Canfield Success Principles Trainer in 2017. Click here to visit his profile in Canfield Trainer Directory.
Naresh is also Richard Bandler Licensed NLP Coach and NLP Master Practitioner. He holds NLP, Hypnosis and Success Workshops across India.
He has written many e-books and is the author of the audio product: Hypnotic Influence Masterclass.
He is a natural trainer & coach. His vision is to transform 1 million people through his coaching, products and workshops.

Upcoming Training Schedule
with Naresh Kumar, Trainer
Location

Date

Class Description

Information

Bangalore, India
Venue: Delight HR, Second Floor, 14 AJR Pride
27th Main, HSR Layout, Bangalore
(Landmark: Opposite to Meenakshi Apartment)

December 30, 31 & January 6, 7, 2018
4 Days (9 AM - 6 PM all 4 days)

Certified NLP Basic Practitioner Course

More information: http://nlpminds.com/trainings/nlp-practitioner/
Minimum 40 total hours (Classroom & Homework)

Contact: Naresh Kumar
Telephone: +91 9108008584
Email: success@nlpminds.com
Website: www.nlpminds.com

Bangalore, India
Venue: (To Be Decided), Bangalore

January 26, 27, 28 & February 3, 4, 2018
5 Days (9 AM - 6 PM all 4 days)

Certified NLP Master Practitioner Course

More information: http://nlpminds.com/trainings/nlp-practitioner/
Minimum 40 total hours (Classroom & Homework)

Contact: Naresh Kumar
Telephone: +91 9108008584
Email: success@nlpminds.com
Website: www.nlpminds.com

Videos with Naresh Kumar, Trainer
Introduction to NLP:
https://www.youtube.com/watch?v=UgruzasMS9w
NLP TFAR Model:
https://www.youtube.com/watch?v=4P8bNFbnz28
Affirmations for Success:
https://www.youtube.com/watch?v=6gB6Tz5lATA
Taking 100% Responsibility for success:
https://www.youtube.com/watch?v=8PSfgxNH4-U
Finding your life purpose:
https://www.youtube.com/watch?v=N-9oErxT7-8
How to handle conflicts gracefully and swiftly:
https://www.youtube.com/watch?v=N-9oErxT7-8
Four Pillars of NLP:
https://www.youtube.com/watch?v=jYRILrucBwM
&nbsp