Azlan Chulan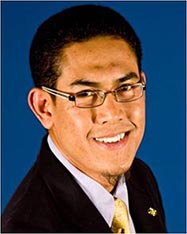 Quantum Tech Consultancy
8, Jalan Kajang Impian 2/2
Taman Kajang Impian, Bandar Baru Bangi, Selangor 43650 Malaysia
Tel/Fax:(+6) 03-8912 9617 Cell: (+6) 019-387 9617
Email: azlan@nlptraining.com.my Website: www.nlptraining.com.my
---
PROFILE: UNGKU AZLAN SHAH UNGKU CHULAN
Ungku Azlan Shah Ungku Chulan is a certified NLP trainer who provides training to professionals and individuals in personal development. Being in the corporate training sector for the past 14 years, Azlan has had the honour of conducting more than 600 programs to thousands of people all over the country including Brunei, helping them move forward in their lives and careers and achieve amazing things.
Azlan is also the Founder and NLP Trainer of Quantum Tech Consultancy. Azlan actively conducts nlp-based training programs for the government and private sectors ranging from non-executives, executives as well as top level managements on the topics of personal excellence, motivation, communication, presentation skills, sales, coaching, learning and creativity. All these programs incorporate Neuro Linguistic Programming (NLP), practical tools and fun experiential learning making it enlightening, enjoyable and highly interactive! Azlan also trains and certifies people to become an NLP practitioner where they can easily and naturally apply it in personal growth, social relationships and business.
Academic Qualifications
B. App. Sc., Curtin University of Technology (Aust)
B. Arch (Hons) Universiti Teknologi MARA
Diploma in Dakwah & Usuluddin, Kolej Darul Hikmah
M.Sc. in Human Resource Development from Universiti Putra Malaysia
Professional Qualifications & Associations
Certified NLP Master Practitioner and a NLP Trainer since 2007, trained under Dr. William Horton. He is certified by the National Federation of Neuro Linguistic Psychology, USA (NFNLP).
Certified LAB Profile (Language and Behavior) Practitioner, trained under Shelle Rose Charvet from Success Strategies, Canada.
Certified ABA Trait Personality Assessor, trained under Dr. Steve Woods, the founder and Director of Aston Business Assessments, a spin out company from Aston University and it's leading Business School.
Certified Aura Practitioner, certified by Akademi Aura Metafizik.
Registered Training Provider (under Quantum Tech Consultancy) with Malaysia Productivity Corporation.
'Professional Member' of the Malaysian Association of Professional Speakers (MAPS).
Attended the Business Coach Training Program by ActionCOACH in Vegas, USA.
Alumni Member of the ESQ Leadership Centre.
Groups facilitated by Azlan:
Government & GLC/ Private Sector/ University & colleges
Parlimen Malaysia, Kementerian Sumber Asli, Kementerian Kerja Raya, Kementerian Pertahanan Malaysia, Kementerian Belia & Sukan, Kementerian Kesihatan Malaysia, Kementerian Luar Negeri, Jabatan Perkhidmatan Awam, Jabatan Sukan Wilayah Persekutuan, Jabatan Pelajaran Negeri Terengganu, Majlis Sukan Negara Paralimpik, Perbadanan Putrajaya, Lembaga Getah Malaysia, Pos Malaysia, Tenaga Nasional Berhad, INSPEN, Perpustakaan Negara
DRB HICOM, Agrobank, KESAS, UDA Holdings Berhad, Langkawi Port, Felda Prodata, Felda Agricultural Services, Permintex Autoparts, Dongwha GH International, Swiss Inn Hotel, Equatorial Hotel
UM, UiTM, MMU, UIA, UTEM, UPM, KPTM
Programs Offered:
POWER-UP!: A Personal Transformation Program
POWER-UP for Managers
POWER-UP for Facilitators
POWER-UP your Presentation
POWER-UP your Sales
NLP Practitioner Course
Upcoming Trainings
with Azlan Chulan, Trainer
&nbsp